On 30 January 2020, the Presidents of the ENCJ, the network of Presidents of the Supreme Courts of the EU and the European Judges Association met the Vice-President of the European Commission for Values and Transparency Ms Vera Jourova and the Commisioner for Justice Mr Didier Reynders.
The meetings were a follow-up to the joint letter that was sent to the President of the Commission Ms Ursula Von der Leyen in September 2019.
The three Presidents expressed their concern about the developments in relation to the Rule of Law in the EU and explained that the Rule of Law is crucial for the effectiveness for the legal order of the EU. Judicial independence and impartial courts are essential elements of the Rule of Law. The destruction of judicial independence will have serious consequences for the rights of the citizens of all EU Member States, it will harm corporate investment, and it will damage mutual trust between Member States.
In return both Commissioners expressed their strong support for the judicial networks and their efforts to speak out and defend the Rule of Law.
© European Union 2020, Source: EC-Audiovisual Service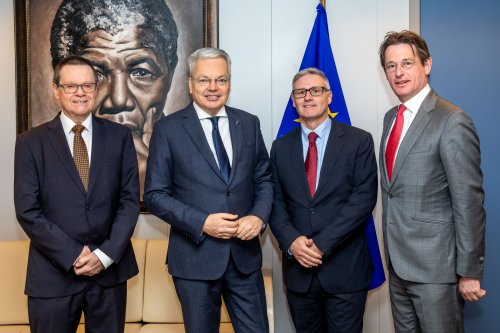 © European Union 2020, Source: EC-Audiovisual Service