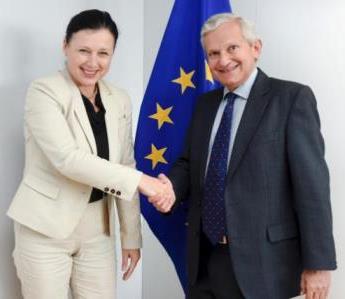 On 22nd September Mr Geoffrey Vos met with Mrs Jourova, the Commissioner for Justice Consumers and Gender Equality.
One of the issues that was discussed was the continuation of the cooperation between ENCJ and the Commission on the EU Justice Scoreboard as it moves to consider the quality of justice.  Another point of discussion was the need for  a programme for the improvement of the quality of justice across the EU involving training, ethics, and enhancing respect for the judiciary.  The ENCJ President suggested that this might bring in the ENCJ's cooperation with EJTN in relation to training judges across Europe in good practices concerning judicial governance, Councils for the Judiciary, and best practice generally.  
The meeting concluded with a discussion on the EPPO (European Public Prosecutors Office) and the way forward in relation to the investigation and prosecution of EU-fraud and other crimes affecting the Union's financial interests.  
Picture courtesy of the European Union - © European Union, 2015