ENCJ project on Independence and Accountability
In 2013 the ENCJ started an ambitious project which aimed to develop indicators for the independence and accountability of the Justice systems of the EU. The second objective was to present an ENCJ vision on the independence and accountability of the judiciary. The report on Independence and Accountability of the Judiciary was adopted by the General Assembly in Rome.
In 2014 and 2015 the ENCJ continued the project as follows:
Application of the indicators by

members and observers.

The 2015 report presents

the outcomes for each member

and observer that participated individually.

ENCJ undertook a

survey among European judges on the perception of their own independence

. 22 judicial organizations were willing and at such short notice able to organise the survey in their countries. In total 5.878 judges participated. The outcomes are presented for all participating countries.

A sub-group comprising the representatives of five of those members of the ENCJ, which have a Council for both judges and prosecutors (Belgium, Bulgaria, France, Romania, and Italy), together with some interested observers developed indicators for the independence and accountability of the prosecution and implemented them in 2015/2016. The views and recommendations contained in this report are, therefore, the views and rec-ommendation of these 5 Councils and not of the entire ENCJ. The work of the sub-group was to consider which of the indicators determined by the ENCJ to be applicable to the independence and accountability of judges were also applicable to the independence and accountability of prosecutors.
In 2015 the project was continued with a particular focus on the evaluation of the elements that make up the Quality of Justice and the Quality of Judicial Decisions, as the first step towards developing indicators of the Quality of Justice. Furthermore the indicators, scoring rules and survey were improved to enable re-application in 2016/2017. Finally a series of four dialogue groups were organised each consisting of 4 members/observers. The meetings aimed to hold in-depth discussions about the challenges to the indepenence and accountability of the judiciaries in the participating countries.
Related documents:
The 2013-2014 report contains: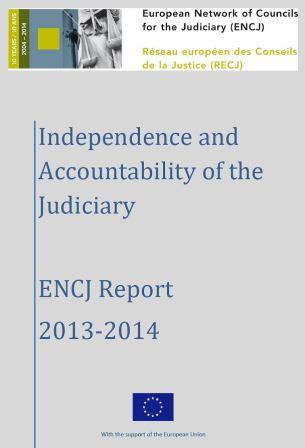 a framework of independence and accountability;

indicators for the objective and subjective independence for the judiciary as a whole and for judges and for the objective accountability for the judiciary and judges;

a pilot of the measurement of the indicators in four judiciaries (Ireland, Italy, the Netherlands and Romania)

an overview of the risks threatening the independence;

recommendations for implementation of the indicators;

the ENCJ vision on independence and accountability and

a set of recommendations for the follow-up of the project
In the next few years work on this project will be continued. In 2014/2015 the project will focus on the following issues: