The ENCJ has set up a permanent office in Brussels to support the Network in achieving its aims. The Office functions as an administrative unit under the authority of the President and the Executive Board and is currently located at Rue de la Croix de Fer 67, Brussels.
Team
Ms Monique van der Goes, director
Ms Natalie Callebaut management-assistant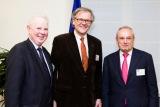 John Thomas, ENCJ President 2008-2010, Stefaan de Clerck, Minister of Justice of Belgium and the European Commisisoner for Justice Affairs, Jacques Barrot at the offical opening of the ENCJ Office on 19 February 2009

Internship programme

The ENCJ has an internship programme. Staff members of the ENCJ Members are offered a two-month internship at the ENCJ Office.
Mr. Strahil Nedkov, Supreme Judicial Council of Bulgaria, October/November 2015
Ms Judita Tamošiūnaitė, National Court Administration of Lithuania, March-June 2014
Ms. Alexandra Brazitsova, Supreme Judicial Council of Bulgaria, October/November 2013
Ms. Amy Shaw, Judges' Council of England and Wales, May/July 2012 and August/September 2013
Mr. Grégoire van Oost, Intern, Student at Ecole pratique des hautes études commerciales, Brussels, February/May 2012
Ms. Simona Santarelli, Consiglio Superiore della Magistratura, March/April 2012
Mr. Rasmus Nielsen, Domstolsstyrelsen, Denmark, January/February 2012
Ms. Cristina Ben Ezra, Consiliul Superior al Magistraturii Romania, November/December 2011
Mr. Marco Frauhammer, special assignment of the Leadership Academy of Baden-Württemberg, Germany, September/October 2011
Ms. Brigit Teurlings, Netherlands Council for the Judiciary, May/June 2011
Ms. Skaistė Gataveckaitė, National Court Administration of Lithuania, March/April 2011
Ms. Christina Todorova, Supreme Judicial Council Bulgaria, January/February 2011
Ms. Barbora Dorickova, Sudna Rada Slovakia, October/November 2010
Mr. Rafal Michalczewski, Krajowa Rada Sadownictwa Poland, May/June 2010
Ms. Mercedes Diez Herraez, Consejo General del Poder Judicial Spain, March/April 2010
Ms. Rebecca Williams, Judges'Council of england and Wales, November/December 2009
Ms. Karolina Janson-Ernert, Krajowa Rada Sadownictwa Poland, September/October 2009